---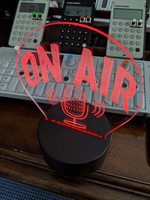 Let everyone know you're in a meeting with this multi-colored and multi-setting LED acrylic light-up sign! It works with a simple push of a button to change colors or put it in slow color cycle mode or - it also works with the included remote control!
Put this light in the background of your Zoom Calls for work, or in the studio where you record your podcasts or twitch and YouTube streams! Or put it outside your door so people know you are ON AIR :)
The light works with 3 Double-AA Batteries (not included) or via USB (Cable Included) so you can plug it into your computer USB or a wall brick (not included) or portable battery.
This light CAN BE CUSTOMIZED - so let us know what message you'd like to add on the bottom - or send us note with a custom graphic and we'll give you a price quote! Get your company logo or band name or BRAND name for your video channel!
IF you choose the customized options - PLEASE PUT THE CUSTOMIZATION IN THE ORDER NOTES - For the Custom message, you can have up to two lines of text with 25 characters per line. This will be in SMALL text at the bottom of the light surface. 
If you want larger text, we can remove the graphic and move it up to the center - or replace the ON AIR text completely.