---
Posted by Jon Rochelle on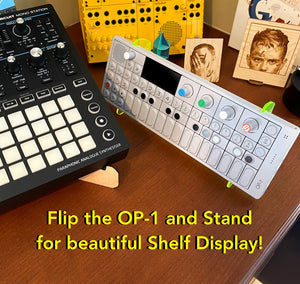 Best Stand for OP-1 from Teenage Engineering Features of the Best OP-1 Stand Holds the OP-1 at an angle comfortable for playing (we like approximately 18-20 degrees) Pass-through holes on all sides for cables Easy to assemble and disassemble with no tools or screws Lightweight and packs flat for travel Strong when assembled to hold the OP-1 A perfect fit for the OP-1 BONUS: Flips for more vertical shelf displaying of the OP-1 ! Best OP-1 Stand for Playing The OP-1 Synthesizer, Sampler, Sequencer from Teenage Engineering is an amazing little device. Little, but POWERFUL. It does so much, and can...
---
Posted by Jon Rochelle on
...someone asked the fateful question "Do you have a rack that could hold multiple rows of POs - up to NINE of them - in a Euro-rack style?"... within a day... the answer became YES - I built a new 3 by 3 PO Rack, which holds NINE Pocket Operators ;)
You can check out all the racks and stands in that progression in the shop - including the new Fluorescent single, the classic double, the OP-1 Plus 3 PO Combo Rack and the mother of all PO racks, the NINE.